The Shoes
Built on the steady foundations of PUMA sportswear essentials, the collection includes some classic footwear silhouettes like the Slipstream Lo, Suede Crepe, and the newly released Suede Mayu. These familiar faces have been elevated with AMI's minimalistic eye for detail and premium materials. Today we ran with the Suedes thanks to their understated pops of green leather on beige suede and low-key grounding crepe sole.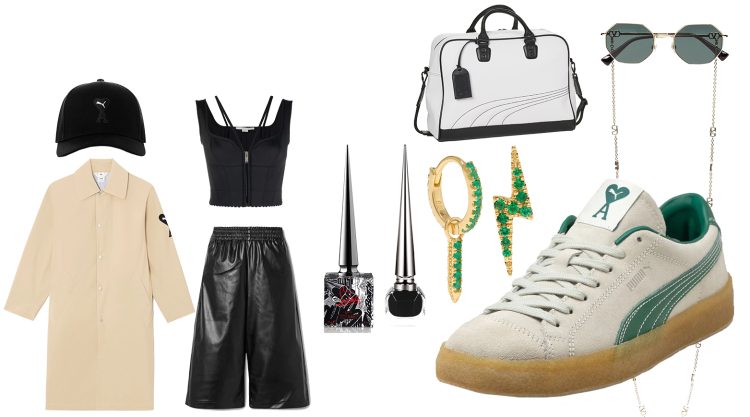 The Outfit
With timeless designs and an impeccable mix of neutral and bold colours, the collection makes a simple, yet strong statement. The AMI de Coeur, AMI's signature symbol, integrates with the infamous PUMA cat for a co-branded graphic that can be seen splayed across pieces in the collection. Apparel from this fruitful collaboration includes t-shirts, polos, jackets, hoodies, shorts, crews, pants, and bras.
Working our way from outside in; the primary outer layer is this oversized lightweight jacket in neutral tones that is primed to become your new wardrobe staple. The chic yet practical piece has a cute embroidery sign-off and is designed with rainCELL tech to keep you dry during those spring showers. Below comes a relaxed fit ribbed crew neck made with recycled fibres in a gorgeous shade of green that winks at the palette established in the sneakers.
Next up is a wild card element: a scuba zip corset top in black that merges the nostalgic with futuristic. No colour, cut or fabric is gender exclusive, and more adventurous layers like this really make a statement about the evolution of fashion. Beneath, a short (borderline crop) top from the collab is a comfortable and classic partner in crime. On the bottom, finish up with a pair of funky vegan leather culottes that further embrace a future of fashion that appears largely absent of gender constructs.
 #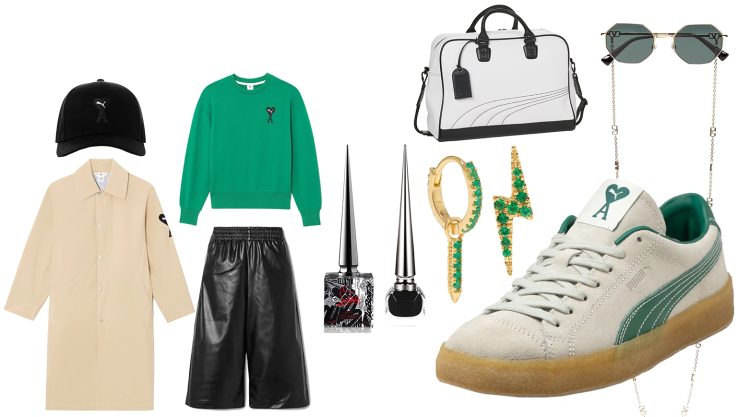 The Accessories
The look wouldn't be complete without accessories – luckily the collection also provides plenty of options in that department, including a bucket hat, curve caps, shoulder bags, and a grip bag. The heavy cotton cap with a low curved visor comes in a sleek black with embroidery logos that gives a nonchalance and old-school sports cool. The white shoulder bag from the collection lends a fresh note to the outfit and is just on time for the spring trend in which oversize bags will have their moment.
An eccentric pair of sunglasses with a dangling chain gives Granny aesthetic ─ but in a good way. Independent but still coordinating earrings in gold with bold emerald elements tie in with the pops of colour that appear throughout the look. Last but not least: chic and street black nail polish with a glossy finish complements the subtle shine of the culottes and completes the whole thing.
Designed from a gender-neutral lens and with the intention of looking friendly but with an attitude,
 

this OOTD celebrates the superior tailoring and innovative sportswear designs of the new

 

PUMAxAMI

 

collection.

 

Drawing creative inspiration from the happiness you find in the people you surround yourself with, the series brims with laid-back yet turned-up pieces ready to be incorporated into your wardrobe.